Welcome Everyone
We are delighted you have chosen to visit us.
The Cecilian Singers are a group of people who love to share music, with each other, but most importantly with YOU. We perform concerts twice each year, at Christmas and in the Spring. We hope you will join us at these celebrations of music.
We welcome singers of all kinds and from everywhere. If you love music and want to share it with appreciative audiences, you have found your new home! For more details check out the Join Us link at the top of the page.
Our 2022/23 season is our first full season under the direction of Terri-Lynn Mitchell. Since joining the Choir in January, Terri-Lynn has brought not just impressive musical skills, but an enthusiasm that makes rehearsing and performing a delight. Also joining us this season is our accompanist Naomi Piggott-Suchan whose ability is a huge support to our choristers.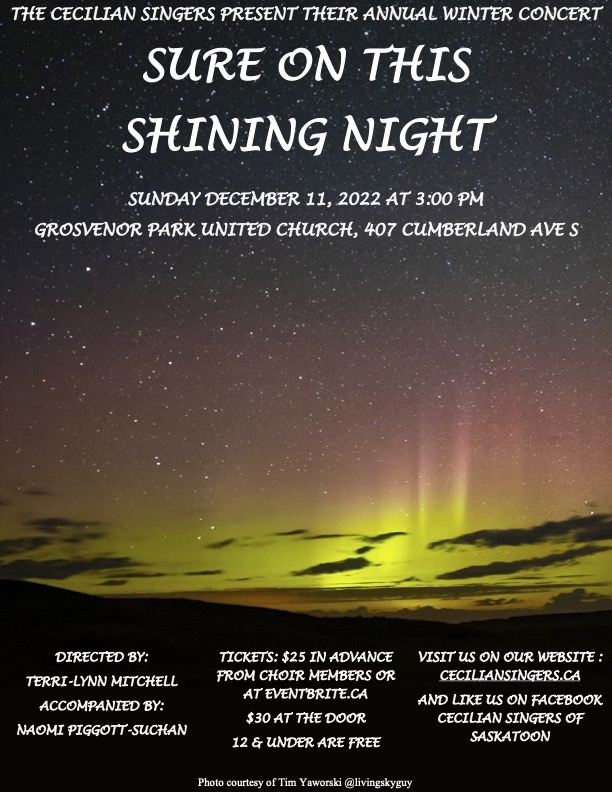 It is the season for holiday concerts and Cecilian Singers are excited to invite you to our Annual Winter Concert at 3:00 pm, December 11 at Grosvenor United Church, 407 Cumberland Ave South. Tickets are available from Choir members for $25 or at the door for $30.